BY LORENZ DUCHAMPS May 15, 2021 Updated: May 16, 2021
Texas Gov. Greg Abbott stated on May 14 that the amount of fentanyl U.S. border agents intercepted on the Texas–Mexico border increased by 800 percent in April compared to the same month last year.
"I gotta tell you, there's a new dynamic about what's going on at the border that Americans need to know about, and that is increased apprehension of fentanyl coming across the border," Abbott said during an interview with Fox News. "Yes, there may be people coming across, but there are dangerous drugs coming across the border.
"We had almost an 800 percent increase April over April of the amount of fentanyl that has been apprehended by the Texas Department of Public Safety."
Breakfast Lovers #10 Can Food Pack (251 servings)
The governor also noted that the amount of fentanyl intercepted is enough to "kill every single person in the state of New York." (Click Here)
Abbott, a Republican, also criticized the Biden administration for appearing clueless about the severity of the crisis, as border agents recently released operational statistics saying they experienced a large increase in encounters with illegal immigrants last month compared to a year earlier.
"On the national level, with regard to the Border Patrol, they apprehended last month—in the month of April—more than 170,000 people," the governor said. "That is a tenfold increase over the prior April, where they apprehended about 17,000 people."
The U.S. Customs and Border Protection released statistics in a May 11 statement that showed border agents had encountered 178,622 illegal aliens attempting to cross the southern border last month, representing a 3 percent increase over the previous month and the highest one-month total in two decades.
Fentanyl is 50 times more potent than heroin and 100 times stronger than morphine, according to the FDA, and local law enforcement agencies are confiscating illegal shipments of the drug in record numbers.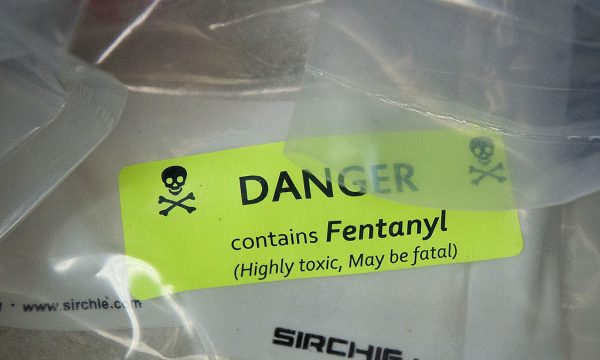 The powerful opioid began as a synthetic opiate originally developed and prescribed for the pain management of cancer patients, according to the U.S. Drug Enforcement Agency. But because of the drug's powerful painkilling properties and inexpensive cost to produce, it was soon diverted into the illegal drug trade.
According to the U.S. National Institute on Drug Abuse, some drug dealers are mixing fentanyl with other drugs—including heroin, cocaine, methamphetamine, and MDMA—also known as ecstasy or molly—because it takes so little to produce a high, making it a cheaper option. Two milligrams of the drug are potentially lethal—5,000 milligrams fit into a teaspoon. (Click to Source)
Jack Bradley contributed to this report.
From NTD News
We're so happy to be able to offer you the highest level of Excellence
in a Comprehensive Telehealth Membership Plan
that just about everyone can absolutely afford.
The only thing you can't afford, is to be without it!
PLEASE CLICK HERE FOR MORE INFORMATION!